Android: Netrunner LCG - Revised Core Set
Karcianka w cyberpunkowym klimacie
Cena: 159.95 zł
Możemy wysłać Ci powiadomienie gdy tylko produkt będzie dostępny - wystarczy, że wpiszesz poniżej swój adres e-mail.
It is the future. The world has changed. Crime has not.
Boot up and run!
The Revised Core Set is your ticket to the not-too-distant future of Android: Netrunner The Card Game. This is an age of sprawling megacities. Artificially intelligent bioroids and genetically modified clones work alongside cyborgs, g-modded humans, and naturals. Hoppers pass overhead in their skylanes, and in New Angeles, a Space Elevator most commonly known as the "Beanstalk" dwarfs neighboring arcologies and skyscrapers as it reaches beyond the Earth's atmosphere and gravity to serve as a low-cost launch for near-space travel.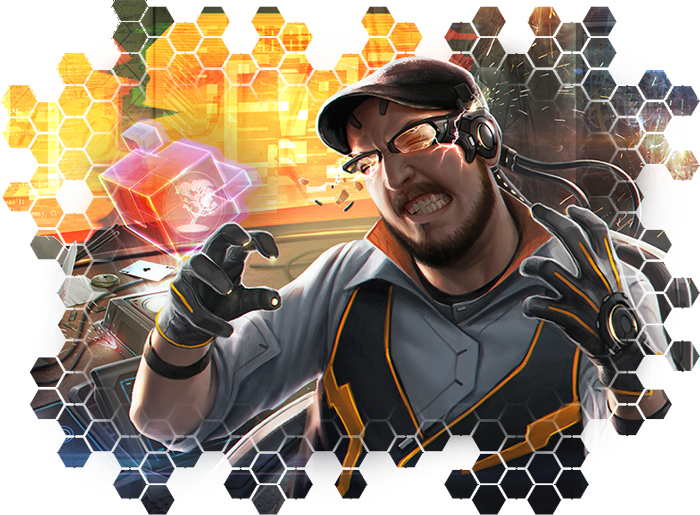 With more than 240 cards, Android: Netrunner LCG - Revised Core Set immerses you in this age and its high-stakes cybercrime. In this future of monolithic megacorps and augmented runners, the all-encompassing network is both one of humanity's greatest assets - and one of its deadliest battlefields. Transmitting more data every second than was expressed in the first 5000 years of written language, the network is home to all manner of data, including countless corporate secrets. While the corps guard these secrets behind layers of defenses known as ice, they still remain vulnerable to those elite hackers known as runners.
Built upon a classic design by Richard Garfield, Android: Netrunner casts these struggles between Corp and Runner as tense, asymmetrical, cat-and-mouse duels for control of valuable data. Jack in, and you enter a world of countless bluffs, counterbluffs, and economic struggles. Every moment offers new choices, and the Revised Core Set comes with everything two players need to dive deep into this acclaimed Living Card Game!
Podstawowe informacje
Liczba graczy:
2 osoby
Waga:
ok. 0.914 kg

Wydawca:
Fantasy Flight Games
Projektant:
Richard Garfield Lukas Litzsinger

Ilustrator:
Bruno Balixa, Ralph Beisner, Del Borovic, Gong Studios, Amelie Hutt, Henning Ludvigsen, Ed Mattinian, Dallas Mehlhoff, Adam Schumpert, Mark Anthony Taduran
Wydanie:
angielskie

Instrukcja:
angielska
Zawartość pudełka:
ponad 240 kart
92 różne znaczniki i żetony
Zobacz koniecznie:
dodaj recenzję / link
| | |
| --- | --- |
| | produkt niedostępny |
Galeria
(kliknij na zdjęcie aby zobaczyć jego powiększenie)
---
Klienci, którzy kupili Android: Netrunner LCG - Revised Core Set, kupili również...:
---
Unikalna talia w świecie, w...,
cena: 39.95 zł



Pierwszy zestaw 60 kart z...,
cena: 59.95 zł



Zawiera karty 1-20 z cyklu...,
cena: 59.95 zł



Zawiera karty 101-120 z cyklu...,
cena: 59.95 zł



Zawiera karty 81-100 z cyklu...,
cena: 59.95 zł



Szósty zestaw 60 kart z...,
cena: 59.95 zł


Komentarze do tego produktu:
---
Ważne informacje:
Akceptujemy płatności
oraz
płatność przy odbiorze
.