Warhammer 40000: Shadowspear
Zestaw startowy z dwiema armiami odwiecznych wrogów!
Cena: 524.95 449.95 zł
Możemy wysłać Ci powiadomienie gdy tylko produkt będzie dostępny - wystarczy, że wpiszesz poniżej swój adres e-mail.
Shadowspear w pigułce
To zestaw bitewny z dwoma armiami!
Wszystkie modele są całkowicie nowe!
Wszystkie modele są dostępne jedynie w tym zestawie!
Wszystkie zasady niezbędne do gry znajdują się w pudełku!
W pełni kompatybilne z istniejącymi kolekcjami do Warhammera 40000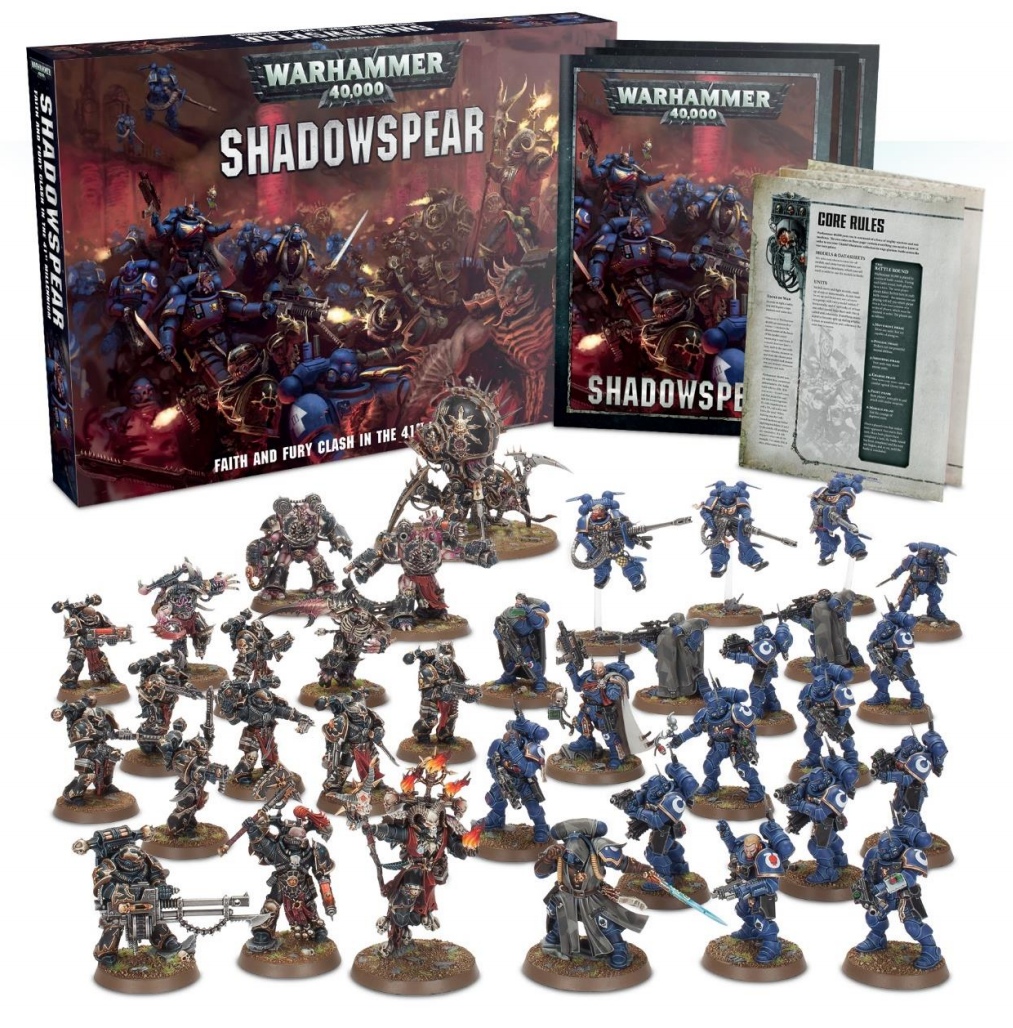 Fot. Games Workshop @WarhammerCommunity
Adeptus Astartes kontra plugawi heretycy


Vanguard Space Marines – kompatybilni z każdą amią Space Marines:

1 Captain, 1 Lieutenant, 1 Librarian, 3 Suppressor, 10 Infiltrators, 3 Eliminators.

Chaos Space Marines – kompatybilni z każdą amią Chaosu:

1 Master of Possession, 10 Chaos Space Marines, 1 Venomcrawler, 2 Obliterators, 2 Great Possessed.

Dwa kodeksy (24 strony), książka do kampanii, książeczka z podstawowymi zasadami do Warhammera 40000.

Shadowspear is a battlebox that pits the malefic Daemonkin against the covert forces of the Vanguard Space Marines. This could be our best battlebox ever, containing two armies of gorgeous models with all-new sculpts, two mini-codexes, as well as lore and missions that kick off the next stage of the war for the Vigilus System. This set is incredible whether you're looking to expand an existing army or start a brand new one. Have a look at all the incredible models you'll find inside!
The Daemonkin
In Shadowspear, the Heretic Astartes are resplendent with baroque and sinister detail. Classics like the Chaos Space Marines and Obliterators have been updated, while new units like the Venomcrawler and Greater Possessed push Chaos designs in bold new directions. These will fit in with collections old and new, combining classic aesthetics and fresh design to create some truly stunning miniatures.
Vanguard Space Marines
The Vanguard Space Marines are as visually striking as the rest of their Primaris brethren, combining the monastic, warrior-monk feel that's core to the Space Marines with a high-tech, militaristic aesthetic. These guys offer a new take on the Adeptus Astartes, looking at how their ages-old doctrines of rapid assault can be used by a guerilla force. Each miniature is covered in webbing, wargear and other details that speak to their distinct methods of war.
The Codexes

Adding the contents of Shadowspear to your main army is easy thanks to a pair of mini-codexes found in the set! As well as containing datasheets for all the miniatures in the box, each is a fully-fledged army book that'll work on its own, even if you don't possess Codex: Space Marines or Codex: Chaos Space Marines.
You'll find brand-new Warlord Traits and psychic powers, rules for dedicating your army to a specific Legion or Chapter, and matched play points, too! If you're an existing Chaos Space Marines or Space Marines player, plugging Shadowspear into your main army is easy, and if you don't play them already, it's super simple to add them to your collection as an allied detachment.
The Shadowspear Campaign Booklet

To get you gaming right out of the box, Shadowspear comes with a mini-campaign set on Nemendghast, one of the industrial worlds in the Vigilus System. With 6 potential missions to play, each offering narrative thrills and tactical challenges, you'll have hours of fun playing with your chosen rival. Each mission is playable with any force, so you can see how your army from Shadowspear fares against Orks, Aeldari or any other faction you choose.
Podstawowe informacje
Liczba graczy:
2 osoby
Waga:
ok. 2.000 kg

Wydawca:
Games Workshop
Materiał:
plastik

Wydanie:
angielskie

Instrukcja:
angielska
Zawartość pudełka:
niepomalowane i niezłożone modele
instrukcje w języku angielskim
dodaj recenzję / link
| | |
| --- | --- |
| | produkt niedostępny |
Galeria
(kliknij na zdjęcie aby zobaczyć jego powiększenie)
---
Inne produkty w tej kategorii:
---
Zestaw startowy do 8 edycji...,
cena: 229.95 zł



Waleczna jednostka Thousand Sons,
cena: 259.95 zł



Ciężka maszyna do zadań specjalnych,
cena: 69.95 zł



Kosmiczne wilki,
cena: 259.95 zł



Zaciekli piraci, żywiący się udręką...,
cena: 249.95 zł



Zestaw startowy przeznaczony dla początkujących...,
cena: 114.95 zł


Klienci, którzy kupili Warhammer 40000: Shadowspear, kupili również...:
---
Dwie armie i podręcznik do...,
cena: 449.95 zł



Wszystko, czego potrzebujesz by stoczyć...,
cena: 429.95 zł



Kości dla wojowników Viking, Jomsviking,...,
cena: 59.95 zł



These sturdy things are made...,
cena: 32.95 zł



Odegraj jedną z największych bitew...,
cena: 420.00 zł



Saga: Viking Starter Warband (4...,
cena: 139.00 zł


Komentarze do tego produktu:
---
Ważne informacje:
Akceptujemy płatności
oraz
płatność przy odbiorze
.